Revolutionizing HVAC: An In-Depth Look at Belimo's Latest Technologies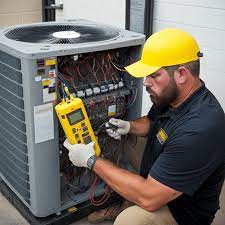 In a world where environmental sustainability and energy efficiency are not just buzzwords but actual imperatives, a revolution is quietly brewing in the HVAC industry. The name at the forefront of this technological renaissance? Belimo HVAC.
The Trailblazers of Tomorrow: Belimo's Innovation Philosophy
Belimo is not just another company in the HVAC landscape; it's a harbinger of change, setting benchmarks that challenge the industry norms. So, what gives them this transformative power? Here are some key areas where Belimo shines:
Smart Actuators

: Belimo's actuators come with built-in diagnostic tools that provide real-time insights into their performance.

Energy Savings

: A focus on sustainability has led to energy-efficient solutions that promise long-term savings.

Versatility

: The valves and actuators come in all shapes and sizes, enabling a custom fit for any HVAC system.
The Future of HVAC is Here: Connectivity and Cloud-based Management
The Internet of Things (IoT) has already taken over our homes, cars, and even our fridges. So why should HVAC systems be any different? Belimo has been a front-runner in integrating advanced connectivity into their HVAC components.
Remote Control

: Imagine controlling the air quality and temperature of your building from miles away. With Belimo's cloud-based solutions, it's a reality.

Predictive Maintenance

: Receive automated alerts about possible system hiccups before they turn into costly disasters.

Data Analytics

: Utilize AI-driven algorithms to understand usage patterns and optimize the system for unparalleled efficiency.
The Queen of the Pack: Introducing b277+afrx24-mft-s
When it comes to cutting-edge, efficient, and reliable HVAC solutions, the b277+afrx24-mft-s model deserves special attention. This model incorporates an impressive range of features that make it the cream of the crop:
Ultra-low Energy Consumption

: This valve is engineered to run efficiently, minimizing your energy bills.

Spring-return Technology

: Ensures that the valve returns to its fail-safe position in case of any power failure.

Customizable Settings

: The model comes with multiple fail-safe positions that can be tailored to individual needs.
Safety and Sanitization: Breaking Stereotypes
The COVID-19 pandemic brought into focus the importance of air quality, making it a top priority for HVAC systems. Belimo has been proactive in adapting its technologies for enhanced safety and sanitization.
Virus-Neutralizing Filters

: Specialized filters that capture and neutralize harmful bacteria and viruses.

UV-C Treatment

: Belimo valves and actuators can be equipped with UV-C lamps that continuously sanitize the air.

Humidity Control

: Accurate sensors and valves to control humidity, thereby limiting the spread of airborne pathogens.
Belimo's Eco-Friendly Commitment
A vital aspect of Belimo's operation is its commitment to environmental sustainability. Through innovative designs that prioritize energy efficiency, Belimo is making substantial strides in reducing the carbon footprint of HVAC systems worldwide. Here's how they are doing it:
Recyclability

: Materials used in their products are often recyclable, reducing waste.

Renewable Energy

: The company itself operates on a substantial percentage of renewable energy.

Green Certifications

: Many Belimo products come with eco-friendly certifications, underlining their commitment to sustainability.
As we witness an era of rapid technological advancements, Belimo's game-changing innovations are setting new benchmarks for the HVAC industry. From cloud-based management to models like b277+afrx24-mft-s that prioritize safety and energy efficiency, the company is indeed revolutionizing what HVAC can offer to humanity. So, whether you're in the process of building a new facility or upgrading an existing HVAC system, understanding the transformative power of Belimo's technologies can guide you in making informed decisions for a sustainable and efficient future.